Najlepsza księgowość dla firm- Ujsoły, Rajcza!
Chcąc podjąć współpracę z profesjonalnym biurem księgowym w miejscowościach takich jak Ujsoły, Rajcza, Milówka i Żywiec, warto jest skontaktować się z biurem MP Biela. Oferujemy Państwu usługi, które idealnie wpasowują się we wszelkie oczekiwania i potrzeby. Nasze 20-letnie doświadczenie zawodowe pozwala na świadczenie profesjonalnych usług księgowych. Obsługiwane firmy stale dostają wszechstronne wsparcie oraz pomoc dzięki czemu mogą rozwijać się w coraz to lepszym kierunku. Posiadamy szereg zadowolonych Klientów, którzy obdarzyli Nas swoim cennym zaufaniem. Pokaźna liczba rozliczonych już faktur ukazuje Naszą stałą gotowość do działania i zaangażowanie. Zapewniamy 100% odpowiedzialności za poprawność prowadzonej przez Naszą firmę księgowości.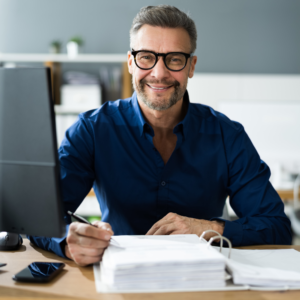 Profesjonalne biuro rachunkowe MP Biela.
Przez lata spędzone na rynku byliśmy w stanie rozszerzyć zakres naszych usług aby spełniał wymagania napotykanych Klientów. Zapewniamy ciągłość prowadzenia działalności gospodarczej przy szerokim zakresie usług księgowo-podatkowych. Bezpieczeństwo Klientów jest dla nas priorytetowe, dlatego nie muszą się Państwo martwić o swoje dane i losy firmy.
MP Biela kompleksowo prowadzi:
Podatkową Księgę Przychodów i Rozchodów,
Ewidencje Przychodów,
Rozliczenia VAT,
Rozliczenia pracownicze,
Pośrednictwo finansowe,
… i wiele innych usług!
Pracownicy biura rachunkowego MP BIELA
Zatrudnieni przez Nas specjaliści w biurze rachunkowym MP Biela wykazują się odpowiednim doświadczeniem dzięki czemu wiedzą jak radzić sobie z każdą sytuacją z firmie. Posiadają szeroką wiedzę i biegle zapewnią rozliczenia podatkowe, doradztwo oraz obsługę księgową. Wieloletnie doświadczenie nabyte w Urzędach Skarbowych dało Nam odpowiednie zaplecze merytoryczne. Pomagamy Klientom na każdym kroku i udzielamy fachowego wsparcia w uzyskaniu dotacji z Urzędu Pracy. Zespół stale nadzoruje proces każdej rejestracji działalności gospodarczej i reprezentuje Klientów przed Urzędem Skarbowym i ZUS-em.
MP Biela najlepszym biurem rachunkowym
Księgowość prowadzona przez biuro rachunkowe MP Biela w Ujsoły, Rajcza, Milówka i Żywiec to najlepsze rozwiązanie dla firm początkujących jak i tych już prosperujących. Profesjonalne usługi księgowe prowadzone przez Nasz wysoce doświadczony zespół gwarantują bezpieczeństwo i wysokie standardy. Zatrudnieni eksperci poświęcą się każdemu Klientowi i podejmą się pracy księgowej z wysokim zaangażowaniem.